Just last week, while I was out with a friend, our discussion turned to
Google maps
, and we found we share an affinity for maps.
Although my fascination began during childhood (yes, I actually spent hours reading the atlas - and encyclopedias too, if you must know), during my college years, I dated a pilot. One of the benefits of dating a pilot is being able to jump in a plane and fly off for a weekend excursion. The best benefit is the ability to sit in the copilot's seat, chart in hand, look down, and determine your exact location based solely on what your eye can see. A bend in a river, a radio tower, railroad tracks... you get the idea.
I lamented that there isn't a road map (yet) that shows what can be seen from a driver's perspective. Something that shows the actual view, not the aerial version of one's location. Sure, it's still possible to figure out where one is based on mile markers, crossroads and geographical landmarks, but there's no satisfaction of an exact match.
Let me illustrate - where's my
Tablet PC
?
What a map might show as this: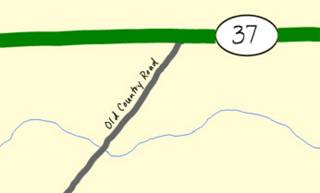 You see as this: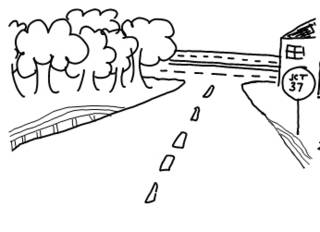 Ok, work with me here, I'm not claiming any artistic talent, but you get the idea... But what if it were possible? Brilliant, huh?
Yeah, I thought so too. Unfortunately,
someone
has beaten me to it.
Go here
and run your mouse along the path of dots.