Here's the wrap-up of our first day in New York:
After waiting on the tarmac at BNA for the thunderstorms to pass, my sister and I were on our way to
La Guardia Airport
and 3 days in New York. An entertaining cab ride brought us into the city, and we checked into our
hotel
and hit the streets. Well, sidewalks.
We spent the first half of the day walking along Park Avenue, Madison Avenue, 5th Avenue... Grabbed lunch at a deli, and walked some more. After a quick visit to the
Chrysler Building
, we headed to the
Empire State Building
, and waited in line for the trip to the observation deck. During our hour and a half wait, the sun went behind the clouds, and we were welcomed to the roof by rain. I still managed to get a few pictures, after fighting with a
pigeon
for the rights to a bird-free view.
There was a shorter wait in line to get out of the Empire State Building, and we walked around Manhattan some more before heading back to the hotel for a quick bite to eat and get ready for the
Yankees game
. The train took us right to the stadium, where we got to see the Yankees lose, and got to experience the fickleness of Yankees fans, as they stood up and cheered for the same player they had booed off the field 10 minutes earlier (I'm not a Yankees fan, so I can't remember who that would have been, but if you're dying to know, you can ask my sister).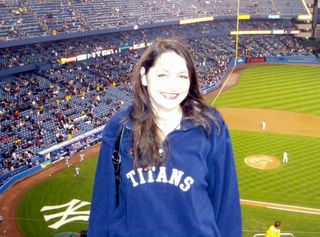 We decided to head out in the eighth inning, and as you can see above, many of the other fans had the same idea. We somehow managed to get on the first train back, and called it a night.
Days two & three later...